SAFe for Teams- What is it all about and What do you need to know about it
SAFe® is a highly agile framework that is designed to allow large enterprises bring agility to their product development and team management. If you work in a team that is part of an Agile Release Train (ART) and want to become a more skilled performer then the SAFe® for Teams certification also known as SAFe® 4 Practitioner (SP) is ideal for you.
Now many team members who apply Lean and Agile at scale may not feel the need to go for SAFe® 4 Practitioner (SP) certification but if you work in such a position and want to become a high-performing team member, this certification can impart you with required skills that enable you to collaborate with other team members. Teams that handle Agile Release Trains or a team that is about to launch an Agile Release Train for the first time will benefit from this certification.
SAFe for Teams is a two-day course that is guided towards the in-depth understanding of the ART. This course teaches you how can your boost up your role to perform more effectively using Scrum, Kanban and XP and deliver more value.
SAFe® Agile Release Train

(Img. Scr:https://www.scaledagileframework.com)
SAFe® 4 Practitioner (SP) certification is focused entirely on training teams for the Agile Release Train. But before we continue with the certification details it is important for you to understand what it takes to launch your first SAFe Agile Release Train.
It is an exciting experience to launch your first SAFe Agile Release Train as a team member. For SAFe® agile implementation to scale at the enterprise level it is important that every team member has an understanding of the structure, deployment and importance of ART. Planning and launch of ART depend entirely on the understanding of the team members and a qualified team can successfully implement the complex projects delivering maximum business values, completing the project within the time limit and under the set budget.
ART is similar to a train that carries passengers to their set destination at a defined cost within pre-estimated time. Now to start a successful ART you need to be aware of what principles govern the Agile Release Train.
Scaled Agile, the provider of SAFe® put this set of common principles on which an ART must operate: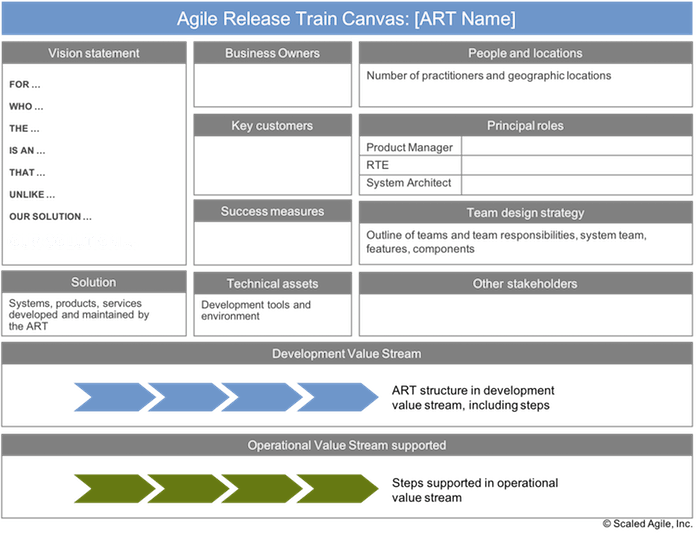 (Img. Scr: https://www.scaledagileframework.com)
The schedule is fixed – The features have a timed departure. ART departs the station on a known schedule as predetermined by the PI cadence. If a feature misses a fixed departure, then it can be accommodated in the next scheduled departure.
A new system increment every two weeks – It is mandatory that trains deliver system increments every two weeks. To evaluate the working system there is a System Demo in place that acts as the integrated increment from all the teams.
The PI timebox is fixed – All teams which are a part of the same ART has synchronized PI length and common iteration start/end dates and duration.
The train has a known velocity –It is important that each train estimates reliably how much cargo can be delivered in a PI.
Agile Teams – All teams part of the ART are agile teams, i.e. they embrace the SAFe® values and principles and apply Kanban, Scrum, Extreme Programming (XP), and other agile practices.
Dedicated people –Irrespective of their functional reporting structure, almost everyone in the ART teams is dedicated full time to the train.
Face-to-face PI Planning – All the working plans related to the ART are decided largely during face-to-face PI Planning events.
Innovation and Planning (IP) – To estimate and dedicate time for PI planning and innovation, continuing education and infrastructure work, IP iterations are a must as they act as a guard band (buffer).
Inspect and Adapt (I&A) – At the end of every PI, an I&A event is held to demonstrate and evaluate the current state of the solution. Based on the outcome, teams along with management identify backlog items.
Develop on Cadence. Release on Demand – To manage the inherent variability of research and development, an ART depends on cadence and synchronization. However, the release of an ART is usually not coupled with development cadence. ARTs can release a solution or its elements at any time.
These are the principles on which an efficient and well-planned ART operates. When there is a larger value stream, several ARTs collaborate to build what is known as a Solution Train. A Solution Train is implemented when you need larger solutions.
Steps for Launching SAFe® Agile Release Train
Train the SAFe® Program Consultants (SPCs)
SPCs are the change agents who are responsible for transforming your organization and connecting it to the Scaled Agile Framework (SAFe®). To train SPCs is the first step towards the launch of your ART as they will be responsible for guiding all the leaders and project stakeholders to drive the ART to its destination on time and within budget.
Train Lean-Agile Leaders
It is the responsibility of the Lean-Agile Leaders to lead and facilitate the SAFe® adoption within the organization for improved outcomes. This is why it is expected from Lean-Agile Leaders that they understand the SAFe® Agile Framework well enough to implement its principles successfully. In order to do so, you will have to train these leaders to the best possible standards to make smooth transition.
Identify Value Streams and ART
ART is a procedural system that entails solution defining, building, validation and deployment. To ensure smooth progress you need to tell all the responsibilities clearly to every team member.
Organize Agile Teams
Organizing ART and Agile teams is an integral part of your role as a SAFe® Practitioner. The roadmap towards this organization includes several milestones including:
Well-defined product with detailed features/components
Collaboration
Leadership support
Integration
Minimized dependencies
Well-managed DevOps activities
Define ART member roles and fill them
It is important to well define the roles of ART members so that agile teams can work aligned together to deliver product par the customer's expectations. Some critical roles that you must define include Release Train Engineer, Product Managers, System Architect, Product Owners and Scrum Masters.
Refine the Product Backlog
The vision of PI is what keeps the product development on track. The Product Backlog defines what is built or PI that informs agile team members about the upcoming features, NFRs and architectural work. This Product Backlog helps you to gain a vision into the future system behavior that helps you to create stories for the Agile teams.
Train the teams
To ensure on-time and best delivery of the product, you need to train the teams to embrace the ART readiness and deliver maximum values at each sprint.
Do PI Planning
PI planning is where face-to-face meeting and events happen. Such events allow Agile Release Train to align all the SAFe agile teams to work towards a shared vision. This is a step at which you actually launch the ART.
Execution
At this step you have the ART definition, the next step is to schedule your first PI planning event that involves forcing functions with a PI calendar. This calendar is marked with all the scheduled activities including ART sync, PI planning, Inspect & Adapt (I&A) workshop, System demos etc.
Innovation and Planning Iteration
This step brings you at the destination where you conduct innovation and planning iteration to absorb any variances in estimates, refine backlog, allow time for innovation and plan 'Inspect & Adapt' workshop.
Planning and launching SAFe Agile Release Train (ART) is a complex and challenging task. This is why it is important that before taking on the role you prepare yourself by acquiring the expertise and by taking SAFe® 4 Practitioner (SP) course like the one offered by Agile-Center. Their trainers will provide you with effective training during the 2-day course that will help to become a certified SAFe 4 Practitioner.
Learning goal of the SAFe® 4 Practitioner (SP) course
As a SAFe Practitioner, you should be able to scale Lean and Agile development in your organization via SAFe. It is also required that you have the complete knowledge of your team and its role on the ART. This will help you to optimize your team's performance and plan iterations accordingly. As a SAFe Practitioner, you will also be required to know the roles of other teams on the Agile Release Train, what their functions are and the dependencies between them. Executing iterations and demonstrating value, planning program increments and working with other teams on the train will also be your role profile.
Now to perform your role, you will have to have the knowledge of the following:
How the Scaled Agile Framework (SAFe) is implemented at scale
How to build an Agile Team
How plan Iteration
How to execute Iteration
How to execute the Program Increment
The SAFe® 4 Practitioner (SP) course teaches you all these concepts. Any agile team member is eligible to take the SAFe® 4 Practitioner (SP) course but it is highly recommended that you work on these prerequisites first:
Gain working knowledge of software and hardware development processes
Know how Scrum, Kanban and XP methodologies work
Familiarize yourself with the concepts and principles of Agile
What other courses complement SAFe for Teams?
SAFe 4 Practitioner is responsible for driving the Agile Release Train working along with other members of the teams. He is also responsible for providing required details to other members. As a SAFe 4 Practitioner you will be required to:
Train Product Owners and Product Managers
Product managers and product owners working together steer the train. Both these roles are critical for the success of the ART and must be well trained. In addition, both product owners and product managers are largely responsible for the initial program backlog building. For training these roles SAFe Product Owner/Product Manager course is the best resource.
Train the Scrum Masters
Scrum masters coach agile team members to improve their performance. Other than that effect ART also depends on the servant leadership of the Scrum Master. In SAFe, Scrum Masters are important for PI planning and also help coordinate value delivery through Scrum of Scrums meetings. The SAFe Scrum Master course is designed to teach traditional scrum masters responsibilities of the larger team-of-Agile-teams.
Train the System Architects/Engineers
System Architects/Engineers provide the broader technology and architectural view of the solution. They enable Agile teams to accelerate the creation of business value by allowing them to make decentralized decisions. SAFe System and Solution Architect course train senior technical contributors into effective Lean-Agile leadership skills.
SAFe for Teams- SAFe Practitioner Certificate Exam Details
Scaled Agile conducts this certification exam known as the SAFe 4 Practitioner Exam. It is a web-based, closed book online exam. The exam format is multiple choice, multiple select. You will be able to access the exam online within the SAFe Community Platform upon completion of the SAFe 4 Practitioner course.
The SAFe Practitioner Certificate Exam is a 90 minutes test during which you have to answer 45 questions in total. Passing score is set to 77%, i.e. you will be required to answer 35 questions out of 45 correctly to get certified. The exam is available only in the English language for candidates.
When you pay the SAFe Practitioner Certificate course registration fee, the cost of first exam attempt is included provided you take the test within 30 days upon completion of the course. Else, every retake attempt with cost you $50. You can attempt the exam for the second time immediately after the first try, however, for the 3rd try you have to wait for 10 days. For the fourth attempt, you will have to wait for 30 days.
The SAFe Practitioner Certificate course teaches you how to write stories, break down features, plan and execute iterations and more. During the final stage of the course, you will learn about the DevOps culture and the continuous delivery pipeline. At the end of the course, you will have the knowledge of what it takes to continuously improve the train and how to effectively integrate with other teams in the program.