A Complete Scrum Master Guide-Roles, Qualities, Certification and More
Agile Methodologies are one of the most significant developments that the IT sector have adopted. Pursuing a career in agile during your formative IT years can make you the best cultural fit for any information technology organisation. These methodologies not only teach you about efficient software development and project management but also allow you to learn about greater flexibility, delivering high-quality products and focusing on customer satisfaction. Scrum is one of the most popular agile methodologies that allow most organisations to achieve organisational agility. Taking the professional job as a Scrum Master can help you have a fulfilling and promising career.
However, often people confuse the role of a Scrum Master and they have no clear idea who can play it well. In this blog we are going to provide you with a complete overview of what Scrum is, what are the roles of a Scrum Master, what are the qualities of a Scrum Master, and how can you become a Scrum Master.
What is Scrum?
According to Wikipedia, "Scrum is an agile framework for managing knowledge work, with an emphasis on software development. It is designed for teams of three to nine members, who break their work into actions that can be completed within timeboxed iterations, called "sprints", no longer than one month and most commonly two weeks, then track progress and re-plan in 15-minute stand-up meetings, called daily scrums."
In simple words, scrum methodology involves the creation of a wishlist by the product owner and then the created WishList is broken down by the project team to smaller pieces that are known as 'sprints'. Typically, a sprint lasts for four weeks and it makes project deliverables very easy to be shipped to the customer. The development team repeats this process over several sprints until the project is delivered. During the entire process, the Scrum Master is at the center of the scrum coordinating all activities that are taking place in the project development and also collaborating between different themes of the project.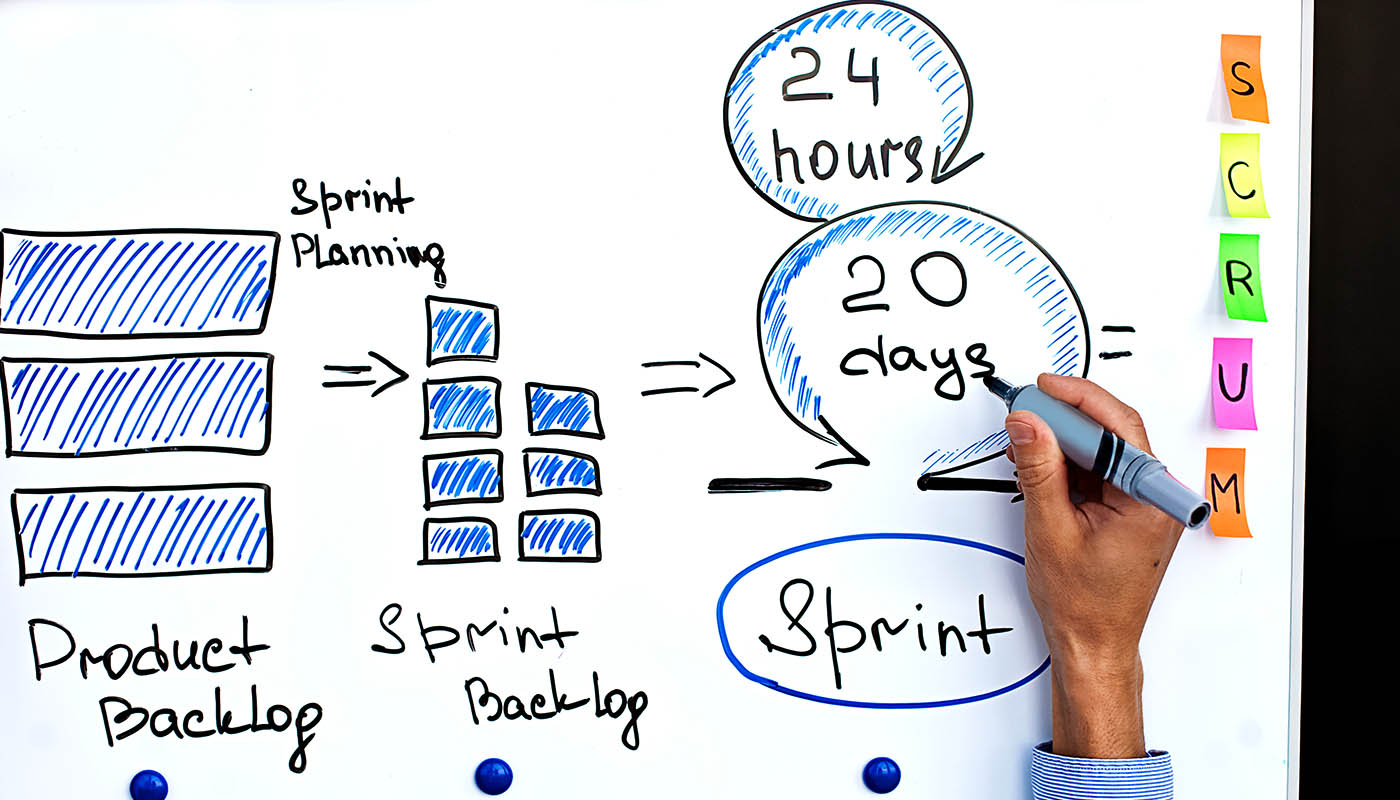 Entire scrum process is mainly divided among three key roles-the product owner, the Scrum Master and the development team. Here we are going to primarily focus on the role of a Scrum Master. Before we continue with the qualities that are required to become a successful Master we will look at the definition of a Scrum Master.
Who is a Scrum Master?
Scrum Master is the leading person of the scrum team who is usually referred to as the champion of the team. It is the role of the Scrum Master to guide the project team and the product owner during the development phase and ensures that the team is implementing all the required agile practices properly. Not only the Scrum Master is responsible for troubleshooting the issues that arise during the agile development process but is also helpful in keeping the business, team, individuals and the product owner on the right track so that they achieve the target.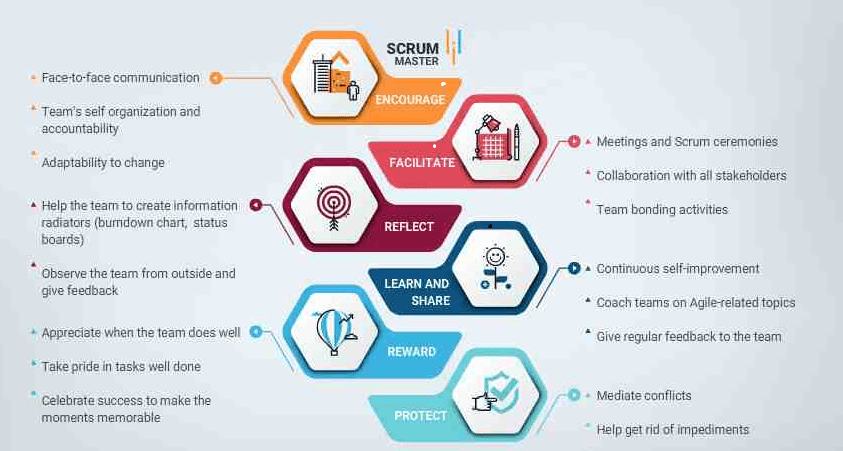 A scrum Master achieves his goals by following:
 At the product owner level, the Scrum Master helps owners to stick to the scrum best practices by facilitating planning

At the business level, the Scrum Master is responsible for creating a supportive and productive environment that enables collaboration bidirectional

At the team level, the Scrum Master provides support, facilitation and guidance that helps remove all possible barriers

At an individual level, the Scrum Master works at a deeper degree, supporting individual efforts, removing any impediments to help individual team members focus and be more productive and providing appropriate individual effort support
According to IT experts, the rules of a Scrum Master are rapidly changing and a quality certification program helps the Scrum Masters to keep their skills updated. Quality certification programs like SAFe certification are becoming industry norms for the role.
Before we continue with the details of the SAFe certification programs for Scrum Master's let's take a look at the qualities of a successful Scrum Master. Even if you feel you do not have these qualities, you still can nurture yourself to build these required qualities.
Qualities of a Successful Scrum Master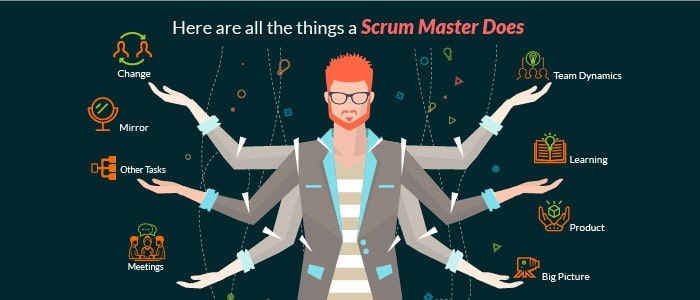 A Scrum Master Is Influential
The role of a Scrum Master is inherently leadership and this is why they are tasked with achieving specific project deliverables and milestones. In order to achieve this goal a scrum Master must be equipped to strategically motivate his team and individuals at an organizational level so as to keep the project going. It is the responsibility of the Scrum Master is a team leader to effectively convert the conceptualised ideas into actionable plans within the team. They are also expected to keep the motivation of the team members high and inspire them to maximise their potential. This is why a Scrum Master is expected to demonstrate his leadership skills within the organisation as well as within the sprint teams.
A Scrum Master Is Collaborative
A Scrum Master is a very important link between the project teams and the product owner. The role of a product owner is to drive the team towards results and goals but it is the responsibility of a Scrum Master to nurture the entire team. A fascinating product is a result of successful collaboration between the Scrum Master and the product owner that meets the customer's goal. While the product owner keeps productivity and involvement in the project high, a Scrum Master is responsible to introduce innovative games to the entire process. As a collaborative lead, a Scrum Master is responsible for encouraging self-organisation among the team members and make them confident enough to make important decisions and improve their overall contribution to the project.
A Scrum Master Is Observant
Another important skill of a Scrum Master is that he's a good listener and acts as a facilitator. It is his responsibility to pay attention to the challenges that are faced by the project team. The Scrum Master has to soak himself entirely in the team's daily activities so that he has a clear view of every individual's contribution and role within the sprint sessions. To further his observational skills a scrum Master has to use his leadership to inspire the team members to achieve their goals as per their roles.
A Scrum Master Is Knowledgeable
An inherent role of Scrum Master is not only resolving impediments but preventing any potential problem before it arises. This can only be achieved if he has absolute knowledge of the product and discipline. This quality only comes with experience that provides a Scrum Master with enough instincts to foresee any possible roadblocks and challenges. This is why this professional must possess knowledge of agile methodologies such as Kanab, lean and XP besides scrum. He must be aware of the strengths and weaknesses of these methodologies and how to use them in combination with scrum.
All these qualities might appear to be hard to nurture but as you learn agile methodologies you become more and more eligible to work as a Scrum Master. Now we are going to take a look at the roles that you will be performing as a Scrum Master.
The Roles of a Scrum Master
During Scaled Agile courses designed for Scrum Masters you are trained to perform unique roles. Some of these key roles are:
The Role of a Facilitator
As a Scrum Master, you will have to conduct daily meetings to get some hands-on update on the project to foresee any potential impediments and to link the activities with the product owner's WishList. At times you will also have to hold demo sessions for the stakeholders to demonstrate project progress to them. All these meetings and sessions are important to gain feedback on the project which plays an important role in deciding the deliverables and release deadline. As a facilitator, it will be your role to estimate the highest value deliverables and plan them for the next release. All in all, you will be responsible to ensure the sustainability and success of a project. These will be your ultimate goals:
Facilitate scrum ceremonies and meetings for team members

Act as a link between the stakeholders and the team members

Make use of different agile technologies to achieve the project goals

Provide the actual definition of done
The Role of a Coach
As a Scrum Master, your role will be providing a clear vision of the product to the project team and this can be done by integrating them into the organisation and creating goals for them. You will also be responsible for setting up communication and information exchange between the project team and external groups. By monitoring the project progress you will have to provide timely feedback so that the culture of agility and learning is encouraged. As a coach, you will have to guide the team to implement the required methodology rules for rapid and reliable business product delivery. As a coach you will:
Mentor team on scrum practices

Promote a standardised project development process

Provide feedback

Remove any impediments and roadblocks

Promote a way for continuous improvements
What a Scrum Master is "NOT"
With all this information about scrum Master, another important detail you need to know about is what a Scrum Master is not. This will help you have a clear concept of what your role is as a Scrum Master will be and will help you eliminate any ambiguity or opacity you have about this role.
A Scrum Master is not a Project manager, be clear on that. The role of a Project manager is of leadership and decision-making. He is responsible for managing the project and lead teams to accomplish the project target according to the vision. However, a Scrum Master acts as a facilitator and a coach. He is ultimately a mediator between the project and the customer.
A Scrum Master is not a product owner as well. There is a huge responsibility of the project on product owners and they have to maintain the entire product backlog. Unlike scrum Master, a product owner manages and re-prioritizes the backlog to accommodate the changes that drive the project.
This is an important piece of information that will let you away from getting confused between the roles of a Scrum Master with that of a project manager or product owner.
How to Become a Scrum Master?
Now you will be interested in knowing the pathway towards becoming a successful Scrum Master. The least difficult and most linear way to become a Scrum Master is through certification. There are a number of certifications available for Scrum Masters, the most advanced of all are the Certified SAFe® Scrum Master and the Certified SAFe® Advanced Scrum Master. Both of these courses are designed to provide a distinctive teaching to candidates on how to get scrum teams working at their highest levels.
Both the certifications teach you about the fundamentals of the Scrum framework and how you can become well versed in team rules, events, rules and artifacts that allow you to implement scrum methodology in the enterprise. Having such SAFe certifications, they put you on the top of the workforce as they are your real-world experience. Such a quality certification demonstrates that you have the apt knowledge and experience of the Scrum process and that you can utilise to watch continuous improvement of the projects.
Let's take a look at what Certified SAFe® Scrum Master and the Certified SAFe® Advanced Scrum Master courses entail.
SAFe framework is the leading agile methodology that is used at the enterprise level to introduce agile practices to product development and team management. It makes sense to take SAFe certification if you are planning to move to the role of the Scrum Master in an enterprise. Two of the most promising certifications for Scrum Masters in SAFe environment are:
SAFe Scrum Master (SSM) Certification
If you are already performing your role as a Scrum Master in a non- SAFe environment and want to migrate to the SAFe enterprise, then the certification is ideal for you. This is a two-day course that is focused on training Scrum Masters to perform in a SAFe environment. After taking this course you will be able to explore your role at an enterprise level in depth and will be able to coach high performing agile teams. You will also be able to plan and execute program increments.
The main goal of the Certified SAFe® Scrum Master course is to identify the role in a SAFe enterprise. It will teach you how to facilitate scrum events between the teams and the team and stakeholders. You will learn effective iteration execution and will be able to support effective Program Increment (Releases) execution. This course also entails how to coach agile teams and to support relentless improvement and DevOps implementation.
Agile-Center has the best training courses for the SAFe Scrum Master (SSM) Certification. You can know more about this course here.
SAFe Advanced Scrum Master (SASM) Certification
If you are a Scrum Master and are already familiar with the SAFe framework in an enterprise and want to move on to leadership role then the certification is for you. Agile-Center offers a two-day course to train existing scrum Masters of the concept of scalable engineering, scaling agile scrum practices at an enterprise level, application of Kanban and DevOps practices, all of which facilitate the flow of value.
The aim of the Certified SAFe® Advanced Scrum Master Course is to provide the scrum master with necessary tools to help in facilitation, enablement, and coaching in a multi-team environment using SAFe principles. The learned principles can also be used to build high performing teams and identify and address Agile and Scrum anti-patterns. This course also teaches you how to support the adoption of agile architecture, DevOps principles and scalable engineering practices. Another application of this certification will be in the optimisation of flow of team's work by applying Kanban eXtreme Programming (XP) frameworks. SAFe Advanced Scrum Master (SASM) certified Scrum Masters are excellent in end-to-end systems value program planning, execution, and delivery which is a highly sought out scale. Certification will help you coach the agile teams and encourage learning through participation in Communities of Practice and innovation cycles.
You can learn about the Agile-Center course for SAFe Advanced Scrum Master (SASM) Certification here.
Final Thoughts
The Scrum Master's role is one of the most highly paid positions in the IT industry. Most organisations consider a Scrum Master to be the ultimate voice of the Scrum framework. However, as a Scrum Master more than a facilitator you will be seen by the team members as a coach. The agile adoption at the enterprise level is happening at a fast pace but only working in the scrum will not further your progress. You can break the glass ceiling if it is keeping you from levelling up as a Scrum Master by taking focused and recognised certifications like Certified SAFe® Scrum Master and the Certified SAFe® Advanced Scrum Master.